Slow Stitching
Incorporate slow stitching into your daily life to give you a few minutes of mindfulness whenever you need them.
7pm – 9pm
Selected Tuesdays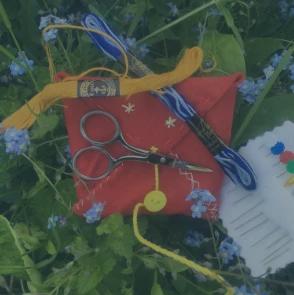 Course
Introduction
Have you been looking for a relaxing, skilled, new hobby to take on board? then this could be the course for you!
A 4-week course that allows you to stitch, take some time out from the busy week, meet with others and share a hot beverage - all in the outdoor environment of Path Hill. Hand stitching allows you to slow down, taking on a rhythm that helps you to re-centre and find inner calm.
4 evening sessions, each running for 2 hours. All sewing items will be provided for this course, but please feel free to bring any extra fabric scraps or offcuts that you would like to work with. You will also create and take home your own personal sewing kit.
After the course, incorporate slow stitching into your daily life to give you a few minutes of mindfulness whenever you need them.
The course will be held in an outdoor structure so please dress appropriately for the weather.
Extra Information
Week 1. Learning hand stitches
Running stitch, cross stitch, chain stitch, blanket stitch, back stitch, sewing on a button...we will run through all these basic stitches and then use them to make a hand stitched pouch to hold your own small sewing kit.
Week 2. Mending and embellishing an item that you would normally get rid of
Do you have a favourite item of clothing that has got torn or holey? Does an item need updating? How about using the hand stitches learnt above to visibly mend, patch or highlight a hole or tear in an item of clothing, bag or soft furnishing? Turn your mend into an embellishment and thus add a new layer of history to an old item.
Week 3. Stitch meditations
Learn how to create small collages from different layers of fabric, thread and haberdashery. The process allows you to refocus, inwardly and quietly, by carrying out moving meditations, each taking 15-45 mins. It's about the process, not the end result!
Week 4. Create a mini Kantha ('rags' in Sanskrit)
We will take inspiration from the Indian subcontinent where they commonly stitch layers of old fabric into something new, such as a quilt. A simple straight running stitch is worked over the fabric to join and strengthen the patchwork piece. We will begin an item which you can take away and continue working on in your own time.