Hammock and Fire Night
Discover your wild side. Learn how to ponass a salmon (first nation method to process and cook a fish over a fire), enjoy dinner cooked on an open fire, and spend the night in a hammock
3pm overnight till 10am
Selected dates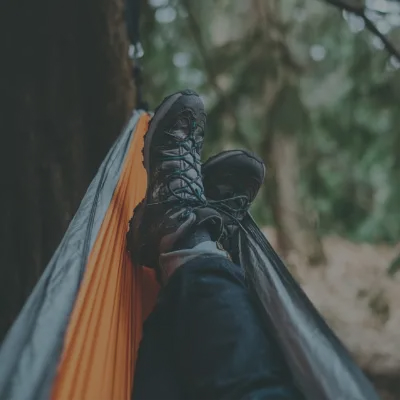 Course
Introduction
Discover your wild side. The aim of this overnight course is to immerse yourself in our beautiful woodland. We will help you set up a hammock in the woods, have a delicious fire-cooked dinner, and experience a night sleeping outdoors.
The evening will be themed around the preparation and cooking of a salmon. Learning primitive salmon food preparation techniques and cooking it over the fire using only hazel. Once cooked you will enjoy a meal cooked on the fire by an experienced member of staff. Once our bellies are full we will relax around the fire, immersed in nature, before settling into our hammock for the night.
Next morning you are invited to join us in a guided mindful meditation to fully experience and engage with the environment. Breakfast will be cooked on the open fire before setting off back to civilization, hopefully taking some of the peacefulness you have discovered with you.
Extra Information
The aim of this overnight course is to provide time for you to immerse yourself in the beautiful woodland environment, learn some new skills and spend a night in the open air. The course is supported by highly experienced instructors who will be there to teach you how to put up a hammock or shelter and give you tips to stay warm and cosy. An evening meal will be provided using ingredients from local sources and you will learn how to cook a salmon with the traditional Native American method of Panassing. After you have tucked into your evening meal surrounded by the sounds of the woodland you have the evenings to yourselves. (An instructor will be on-site and contactable if needed). This is a time to sit and relax and enjoy nature at its best.
Catering: Hot drinks, biscuits and fruit. An evening meal (2 courses) and a simple breakfast cooked on the fire.
Gallery